---
---
org.hornetq.api.core.client
Interface ClientSession.BindingQuery
Enclosing interface:
---
public static interface ClientSession.BindingQuery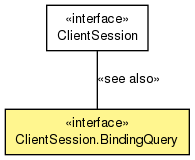 Information returned by a binding query
---
isExists

boolean isExists()
Returns true if the binding exists, false else.
---
getQueueNames

List<SimpleString> getQueueNames()
Returns the names of the queues bound to the binding.
---
---
Copyright © 2009 Red Hat Inc. All Rights Reserved.