---
org.jboss.dna.repository
Class Configurator<BuilderType>

java.lang.Object
  org.jboss.dna.repository.Configurator<BuilderType>

Type Parameters:

BuilderType -
Direct Known Subclasses:
---
public abstract class Configurator<BuilderType>

extends Object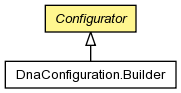 ---
getExecutionContext

public final ExecutionContext getExecutionContext()
Get the execution context used by this configurator.

Returns:

the execution context; never null
---
save

public BuilderType save()
Save any changes that have been made so far to the configuration. This method does nothing if no changes have been made.

Returns:

this configuration object for method chaining purposes; never null
---
---
Copyright © 2008-Present JBoss a division of Red Hat. All Rights Reserved.