---
---
Package org.modeshape.web.jcr
This package contains the core components for the ModeShape common web library.

See:
Description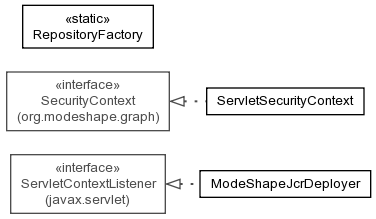 Package org.modeshape.web.jcr Description
This package contains the core components for the ModeShape common web library.
The key classes are:
RepositoryFactory - the class creates JCR sessions based on HTTP requests
ServletSecurityContext - the bridge from HTTP security to ModeShape JAAS-based security
ModeShapeJcrDeployer - the servlet context listener that deploys the JcrEngine and initializes the RepositoryFactory.
---
---
Copyright © 2008-2010 JBoss, a division of Red Hat. All Rights Reserved.