---
---
Package org.modeshape.web.jcr.webdav
This package contains the core components for the ModeShape WebDAV server implementation.

See:
Description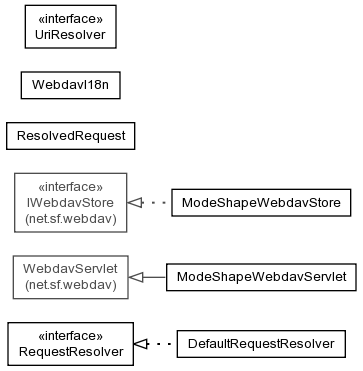 Interface Summary
RequestResolver
Interface for a method of resolving a request into a repository name, workspace name, and UriResolver within the workspace.
UriResolver
Resolves the given URI into a path in a JCR workspace Implementations need not be thread-safe.
Package org.modeshape.web.jcr.webdav Description
This package contains the core components for the ModeShape WebDAV server implementation.
The key classes are:
ModeShapeWebdavServlet - the servlet class that handles requests for WebDAV URIs
ModeShapeWebdavStore - the implementation class that maps WebDAV operations to JCR operations
RequestResolver - the contract for mapping an incoming URI to a repository, workspace, and path within the workspace
---
---
Copyright © 2008-2010 JBoss, a division of Red Hat. All Rights Reserved.