---
---
org.jboss.netty.handler.codec.http
Class HttpMessageEncoder

java.lang.Object
  org.jboss.netty.handler.codec.oneone.OneToOneEncoder
      org.jboss.netty.handler.codec.http.HttpMessageEncoder

All Implemented Interfaces:
Direct Known Subclasses:
---
@ChannelPipelineCoverage(value="all")
public abstract class HttpMessageEncoder

extends OneToOneEncoder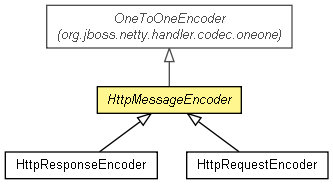 Encodes an HttpMessage or an HttpChunk into a ChannelBuffer.
Extensibility
Please note that this encoder is designed to be extended to implement a protocol derived from HTTP, such as RTSP and ICAP. To implement the encoder of such a derived protocol, extend this class and implement all abstract methods properly.
Version:

$Rev: 1685 $, $Date: 2009-08-28 16:15:49 +0900 (금, 28 8 2009) $

Author:

The Netty Project (netty-dev@lists.jboss.org), Andy Taylor (andy.taylor@jboss.org), Trustin Lee (tlee@redhat.com)
---
Methods inherited from class java.lang.Object
clone, equals, finalize, getClass, hashCode, notify, notifyAll, toString, wait, wait, wait
HttpMessageEncoder

protected HttpMessageEncoder()
Creates a new instance.
encode

protected Object encode(ChannelHandlerContext ctx,
                        Channel channel,
                        Object msg)
                 throws Exception
Specified by:

encode in class OneToOneEncoder

Throws:
---
encodeInitialLine

protected abstract void encodeInitialLine(ChannelBuffer buf,
                                          HttpMessage message)
                                   throws Exception
Throws:
---
---
Copyright © 2008-2009 JBoss, by Red Hat. All Rights Reserved.