---
---
org.jboss.remoting
Interface HandleableCloseable<T>
Type Parameters:

T - the type that is passed to the close handler
All Superinterfaces:
All Known Subinterfaces:

AutoCloseable<T>, Client<I,O>, ClientContext, ClientSource<I,O>, Handle<T>, RequestHandler, RequestHandlerSource, ServiceContext, SimpleCloseable
All Known Implementing Classes:
---
public interface HandleableCloseable<T>

extends Closeable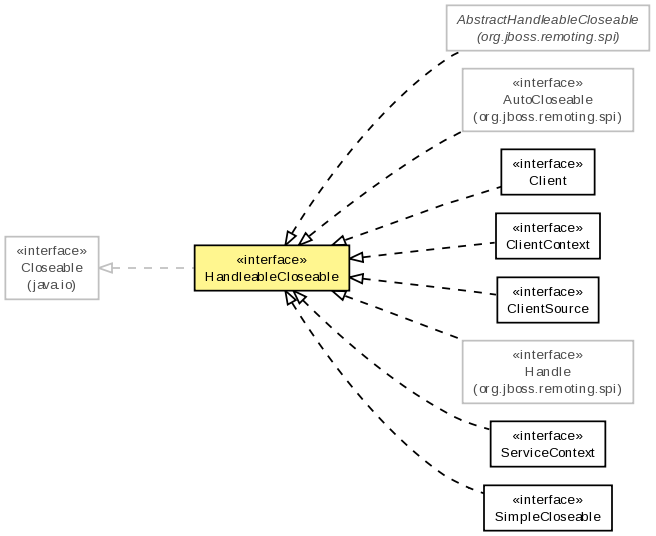 A Remoting resource that can be closed.
---
close

void close()
           throws IOException
Close, waiting for any outstanding processing to finish.

Throws:

IOException - if the close failed
---
addCloseHandler

HandleableCloseable.Key addCloseHandler(CloseHandler<? super T> handler)
Add a handler that will be called upon close. The handler may be called before or after the close acutally takes place.

Parameters:

handler - the close handler

Returns:

a key which may be used to later remove this handler
---
---
Copyright © 2008 JBoss, a division of Red Hat, Inc.