---
---
org.jboss.remoting.util
Class OrderedExecutor

java.lang.Object
  org.jboss.remoting.util.OrderedExecutor

All Implemented Interfaces:
---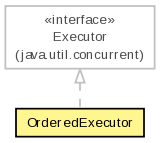 An executor that always runs all tasks in order, using a delegate executor to run the tasks.

More specifically, any call B to the execute(Runnable) method that happens-after another call A to the same method, will result in B's task running after A's.
---
Methods inherited from class java.lang.Object
clone, equals, finalize, getClass, hashCode, notify, notifyAll, toString, wait, wait, wait
OrderedExecutor

public OrderedExecutor(Executor parent)
Construct a new instance.

Parameters:

parent - the parent executor
execute

public void execute(Runnable command)
---
---
Copyright © 2008 JBoss, a division of Red Hat, Inc.