---
---
org.jboss.marshalling
Class AbstractExternalizer

java.lang.Object
  org.jboss.marshalling.AbstractExternalizer

All Implemented Interfaces:
---
public abstract class AbstractExternalizer

extends Object

implements Externalizer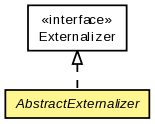 An externalizer base class which handles object creation in a default fashion.
See Also:
---
Methods inherited from class java.lang.Object
clone, equals, finalize, getClass, hashCode, notify, notifyAll, toString, wait, wait, wait
AbstractExternalizer

public AbstractExternalizer()
createExternal

public Object createExternal(Class<?> subjectType,
                             ObjectInput input,
                             Creator defaultCreator)
                      throws IOException,
                             ClassNotFoundException
Create an instance of a type using the provided creator.

Specified by:

createExternal in interface Externalizer

Parameters:

subjectType - the type to create
input - the object input
defaultCreator - the creator

Returns:

a new instance

Throws:

IOException - if an I/O error occurs
ClassNotFoundException - if the class could not be located
---
---
Copyright © 2008 JBoss, a division of Red Hat, Inc.