---
---
org.jboss.marshalling
Class ContextClassResolver

java.lang.Object
  org.jboss.marshalling.AbstractClassResolver
      org.jboss.marshalling.ContextClassResolver

All Implemented Interfaces:
---
public class ContextClassResolver

extends AbstractClassResolver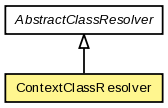 A class resolver which uses the context classloader to resolve classes.
---
Methods inherited from class java.lang.Object
clone, equals, finalize, getClass, hashCode, notify, notifyAll, toString, wait, wait, wait
ContextClassResolver

public ContextClassResolver()
Construct a new instance.
getClassLoader

protected ClassLoader getClassLoader()
Get the classloader to use to resolve classes for this resolver.

Specified by:

getClassLoader in class AbstractClassResolver

Returns:

the classloader
---
---
Copyright © 2008 JBoss, a division of Red Hat, Inc.