---
---
org.scribble.protocol.monitor
Class DefaultMonitorContext

java.lang.Object
  org.scribble.protocol.monitor.DefaultMonitorContext

All Implemented Interfaces:
---
public class DefaultMonitorContext

extends Object

implements MonitorContext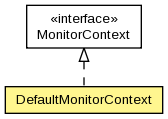 This class provides a default implementation of the monitor context.
---
Methods inherited from class java.lang.Object
clone, equals, finalize, getClass, hashCode, notify, notifyAll, toString, wait, wait, wait
DefaultMonitorContext

public DefaultMonitorContext()
validate

public Result validate(Session session,
                       MessageNode mesgNode,
                       Message mesg)
This method determines whether the supplied message is valid in respect of the supplied message node.

Specified by:

validate in interface MonitorContext

Parameters:

session - The session
mesgNode - The message node
mesg - The message to be validated

Returns:

Whether the message is valid
---
---
Copyright © 2008-Present Scribble.org. All Rights Reserved.