---
---
org.scribble.protocol.model
Class Activity

java.lang.Object
  org.scribble.protocol.model.ModelObject
      org.scribble.protocol.model.Activity

Direct Known Subclasses:

Block, Choice, DirectedChoice, Do, End, Inline, Interaction, Introduces, Parallel, RecBlock, Recursion, Repeat, Run, Unordered
---
public abstract class Activity

extends ModelObject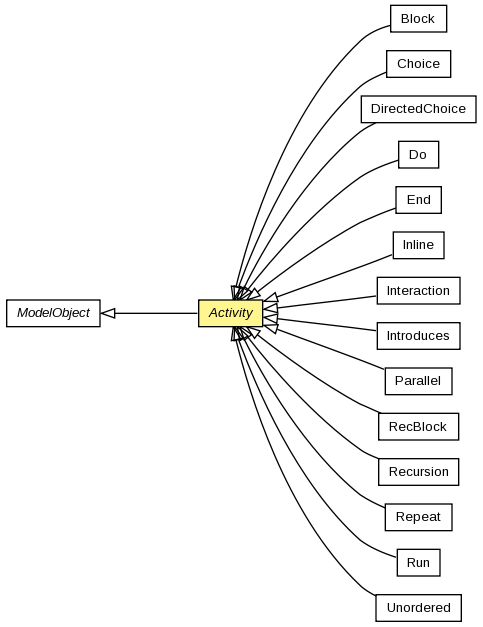 This class represents the base class for all Scribble definition components.
---
Methods inherited from class java.lang.Object
clone, equals, finalize, getClass, hashCode, notify, notifyAll, toString, wait, wait, wait
Activity

public Activity()
The default constructor.
---
Activity

public Activity(Activity act)
The copy constructor.

Parameters:

act - The activity
getEnclosingProtocol

public Protocol getEnclosingProtocol()
This method returns the protocol in which this activity is contained.

Returns:

The protocol, or null if not found
---
---
Copyright © 2008-Present Scribble.org. All Rights Reserved.