---
---
org.jboss.shrinkwrap.api.serialization
Interface SerializableView
All Superinterfaces:
All Known Subinterfaces:
---
public interface SerializableView

extends Assignable, Serializable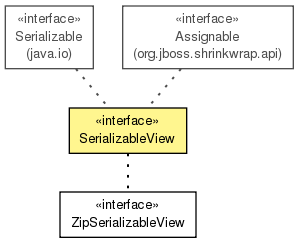 Serializable view of an Archive. This is the base interface for all Serializable views of an Archive, and may be extended/implementated to define a custom wire protocol.

ShrinkWrap will use a ZipSerializableView implementation when assigning archives to this type directly via Assignable.as(Class). However consumers obtaining this type should not assume anything about the protocol being used under the hood; it may be any subtype.

May be reassigned back to a normal Archive view via Assignable.as(Class).
Version:

$Revision: $

Author:
---
Methods inherited from interface org.jboss.shrinkwrap.api.Assignable
as
---
---
Copyright © 2011 JBoss, a division of Red Hat, Inc.. All Rights Reserved.