---
---
org.jboss.xnio
Interface ChannelSource<T extends Channel>
Type Parameters:

T - the type of channel
All Known Subinterfaces:
---
public interface ChannelSource<T extends Channel>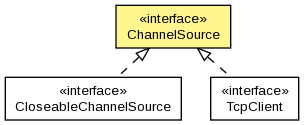 A channel source. Instances of this interface are used to create a channel and associate it with a handler. Example uses are to establish a TCP connection (as a client), open a serial port, etc.
---
open

IoFuture<T> open(IoHandler<? super T> handler)
Open a channel.

Parameters:

handler - the handler for this channel

Returns:

the future result of this operation
---
---
Copyright © 2008 JBoss, a division of Red Hat, Inc.