Introduction
Traditionally, clients have interacted with Infinispan in a peer-to-peer (p2p) fashion where Infinispan and the client code that accessed it lived within the same VM. When Infinispan is queried in this way, it is considered to be accessed in an embedded fashion, as shown in the screenshot below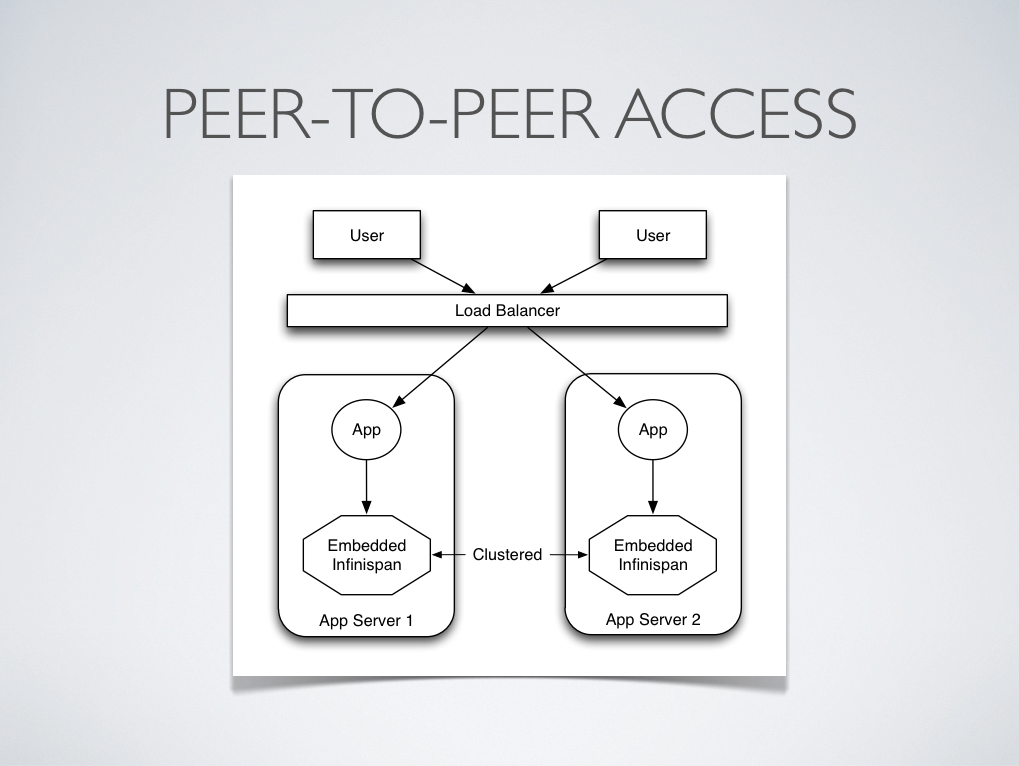 Client-Server over Peer-to-Peer
However, there are situations when accessing Infinispan in a client-server mode might make more sense than accessing it via p2p. For example, when trying to access Infinispan from a non-JVM environment . Since Infinispan is written in Java, if someone had a C++ application that wanted to access it, it couldn't just do it in a p2p way. On the other hand, client-server would be perfectly suited here assuming that a language neutral protocol was used and the corresponding client and server implementations were available.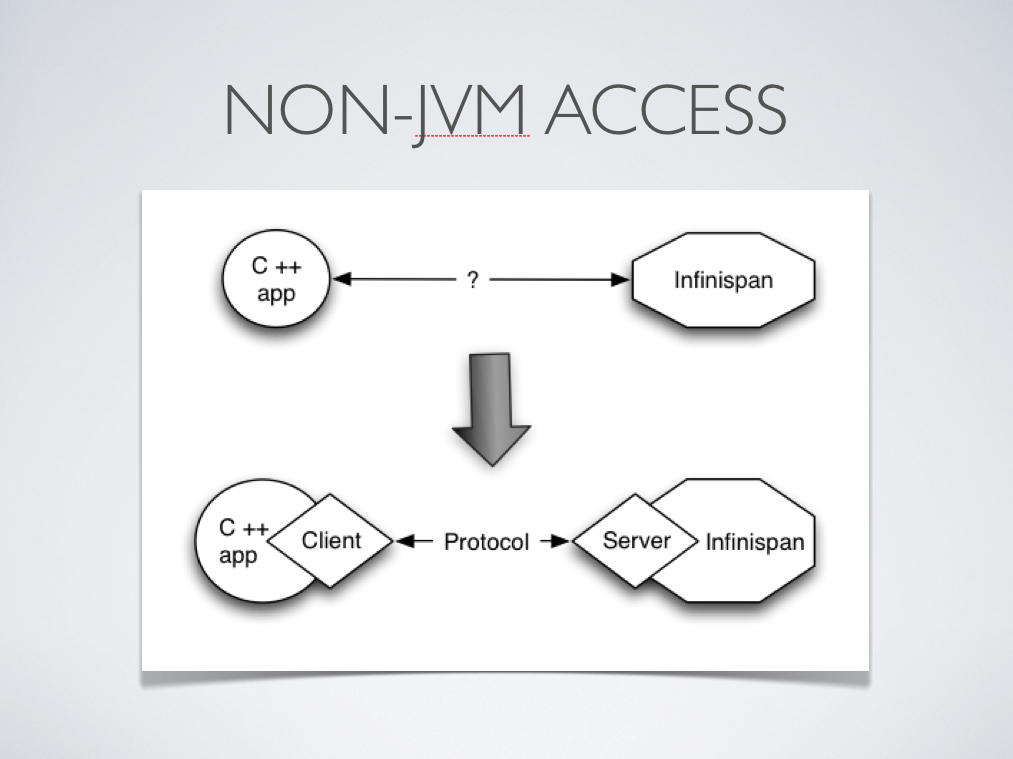 In other situations, Infinispan users want to have an elastic application tier where you start/stop business processing servers very regularly. Now, if users deployed Infinispan configured with distribution or state transfer, startup time could be greatly influenced by the shuffling around of data that happens in these situations. So in the following diagram, assuming Infinispan was deployed in p2p mode, the app in the second server could not access Infinispan until state transfer had completed.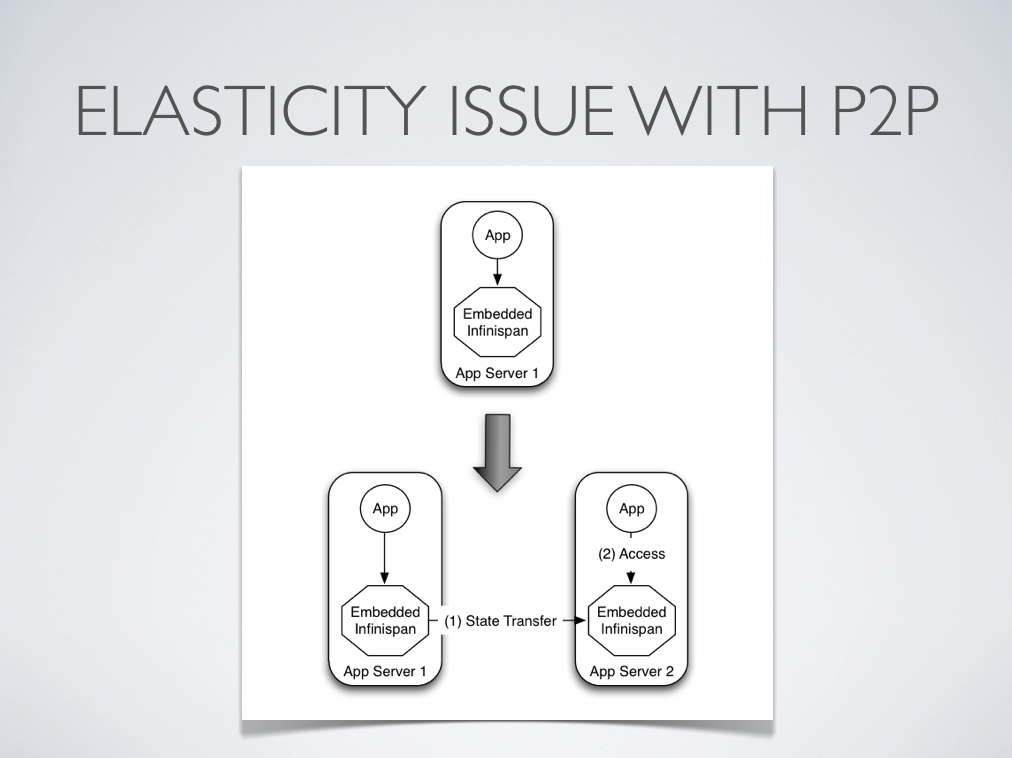 This effectively means that bringing up new application-tier servers is impacted by things like state transfer because applications cannot access Infinispan until these processes have finished and if the state being shifted around is large, this could take some time. This is undesirable in an elastic environment where you want quick application-tier server turnaround and predictable startup times. Problems like this can be solved by accessing Infinispan in a client-server mode because starting a new application-tier server is just a matter of starting a lightweight client that can connect to the backing data grid server. No need for rehashing or state transfer to occur and as a result server startup times can be more predictable which is very important for modern cloud-based deployments where elasticity in your application tier is important.
Other times, it's common to find multiple applications needing access to data storage. In this cases, you could in theory deploy an Infinispan instance per each of those applications but this could be wasteful and difficult to maintain. Thing about databases here, you don't deploy a database alongside each of your applications, do you? So, alternatively you could deploy Infinispan in client-server mode keeping a pool of Infinispan data grid nodes acting as a shared storage tier for your applications .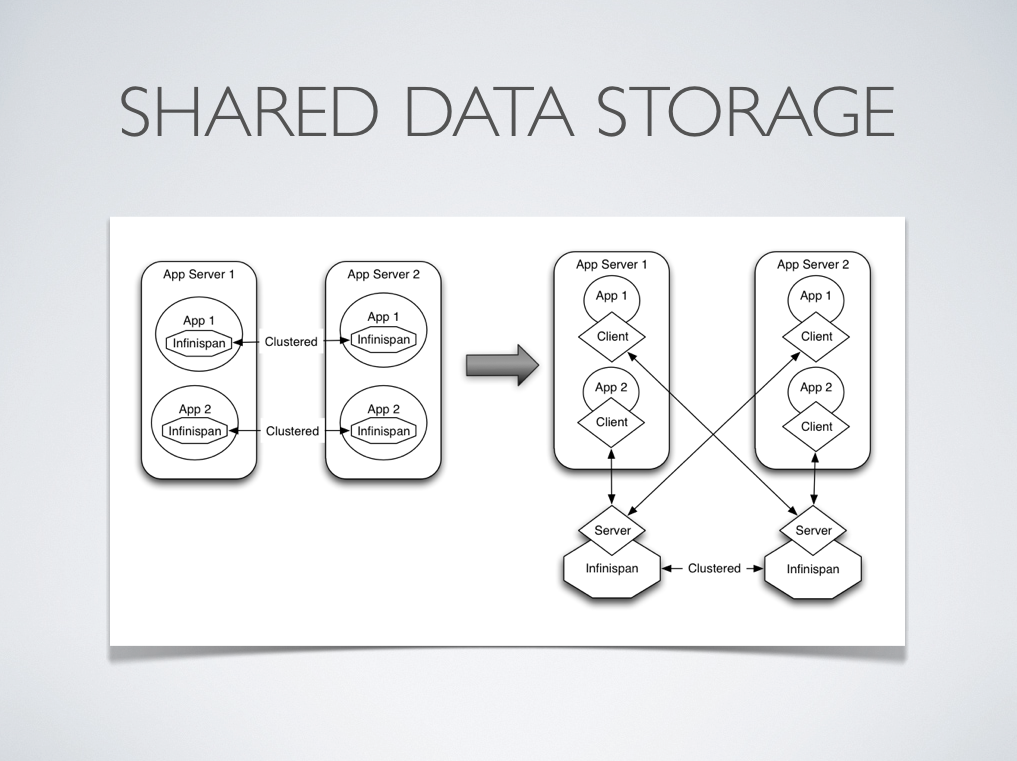 Deploying Infinispan in this way also allows you to manage each tier independently, for example, you can upgrade you application or app server without bringing down your Infinispan data grid nodes.
Peer-to-Peer over Client-Server
Before talking about individual Infinispan server modules, it's worth mentioning that in spite of all the benefits, client-server Infinispan still has disadvantages over p2p. Firstly, p2p deployments are simpler than client-server ones because in p2p, all peers are equals to each other and hence this simplifies deployment. So, if this is the first time you're using Infinispan, p2p is likely to be easier for you to get going compared to client-server.
Client-server Infinispan requests are likely to take longer compared to p2p requests, due to the serialization and network cost in remote calls. So, this is an important factor to take in account when designing your application. For example, with replicated Infinispan caches, it might be more performant to have lightweight HTTP clients connecting to a server side application that accesses Infinispan in p2p mode, rather than having more heavyweight client side apps talking to Infinispan in client-server mode, particularly if data size handled is rather large. With distributed caches, the difference might not be so big because even in p2p deployments, you're not guaranteed to have all data available locally.
Environments where application tier elasticity is not so important, or where server side applications access state-transfer-disabled, replicated Infinispan cache instances are amongst scenarios where Infinispan p2p deployments can be more suited than client-server ones.
Server Modules
So, now that it's clear when it makes sense to deploy Infinispan in client-server mode, what are available solutions? All Infinispan server modules are based on the same pattern where the server backend creates an embedded Infinispan instance and if you start multiple backends, they can form a cluster and share/distribute state if configured to do so. The server types below primarily differ in the type of listener endpoint used to handle incoming connections. Here's a brief look at each of them: