The following are existent UI elements in rhq that need significant improvement in order for the default experience to be satisfactory:
Dashboard - the Default Landing Page
What is a dashboard and why do we need it?
A dashboard offers a single view of complexity. For example, a page that provides an at-a-glance summary of the health/activity of all the systems the user is interested in.

For most users, the most important element of a dashboard is alerts, since responding to problems is usually the most important task for a user. Highest priority alerts should be elevated, not lost in a huge log. The user should have an immediate idea of what systems or applications need attention and an immediate way to navigate to more details.

Navigation from a Dashboard should be offered in many places via drilldowns, which are simply links to more detail about an item.

It should suggest to the user where he might wish to go next, what actions should be performed next

It should be highly customizable so that it can serve the needs of diverse users with highly specific domain needs.

The dashboard should be the first page the user lands on after login
dashboard.do in the current RHQ UI (navigate to this page via the Overview menu.)
Dashboard.do is the closest thing to a useful dashboard in the existing RHQ ui, however it is not used frequently in the current rhq and adds little value becasue

Functionally, the existing page has the right structure and reasonable customizability (user can move things around, remove things, configure things). It is a little unclear how to add things but presumably this is possible.

It seems reasonable that we can base the new dashboard on Dashborad.do. If not, the improved dashboard should at least replace it.
New Dashboard
As a user of any type, I want to arrive at the dashboard and get a good feel for the health of my objects of interest after a cursory look at the page.
Some example information helpful to have on a dashboard
More graphs than words (this should be at-a-glance info)

Shortcuts to key actions for the application (see Right panel, above)

Summary of applications on rhq and their respective health

Summary of recent alerts activated, prioritizing the most important ones

Maybe some sort of summary of systems, or recent operations to the eap instance, or any other summary of managed data

All content narrowed down by user access/role

While there should be affordance for some customization on the end user's part ("Add to my dashboard"), this need not be the core of the dashboard experience, which needs to survive on sensible defaults, based on the user role.
Structurally, the dashboard is a layout of boxes or portlets. Each box can be a discrete part and can show some relevant information about one or more items. For example a box may show a graph for one machine I really care about, another lists all alerts for my clusters. The current Dashboard.do page generally succeeds at this pattern.
Boxes seem like an obvious extension point. Thus perspectives could provide any number of boxes to the dashboard page directly, or define available boxes. For example, the user opens a picker to choose which boxes they want to add to the Dashboard. Boxes available to add would depend on thier role (via perspectives).
Below is an example of the new dashboard page. In the main content area is a number of boxes, showing different types of summaries, graphs, alerts. The exact boxes and the contents of these boxes are determined by what the user has access to, what kind of info they care about, all determined by any number of perspectives taht together contribute to build this view. On the right pane there are areas for high level global actions and some links to user assistance.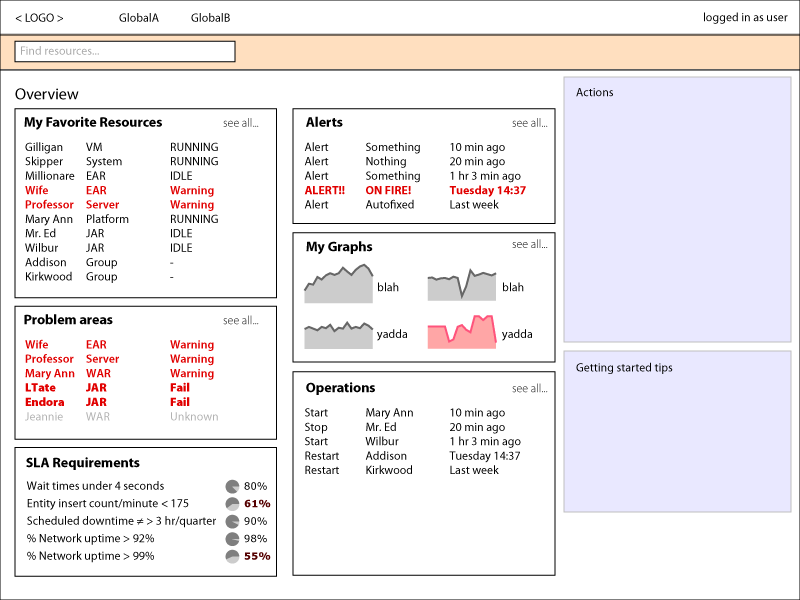 Notes on the existing default landing page
This page adds little value and at best is annoying; at worst it adds confusion about what to do next. The first page the user sees should at least suggest a helpful direction for the user to go to. This page should be replaced by the redesigned dashboard described above. Some of that tasks listed here may make their appearance in the right panel in the updated Dashboard. More comments on the landing page from the 3/09 UX review: http://productdesign.usersys.redhat.com/wiki/JON_Usability_Review/Areas_of_Need/Landing_Page