---
---
Package org.hornetq.api.jms
API to create HornetQ JMS resources.

See:
Description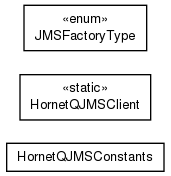 Class Summary
HornetQJMSClient
A utility class for creating HornetQ client-side JMS managed resources.
HornetQJMSConstants
Constants for HornetQ for property keys used for HornetQ specific extensions to JMS.
Package org.hornetq.api.jms Description
API to create HornetQ JMS resources.
This package contains classes to create HornetQ JMS managed resources (ConnectionFactory, Queue and Topic).
---
---
Copyright © 2009 Red Hat Inc. All Rights Reserved.