During the implementation of the left nav changes as outlined here we've discovered several points that require further discussion. Because the resource renaming is a part of the effort as well, I lumped it together even though it could make for a discussion of its own. Below is a list of what we've found so far.
Search results are hard to make sense of
As a consequence of resource names simplification, as drafted here and detailed here, the search results are quite hard to visually navigate through. There's a couple of problems detailed below. We should build a big inventory with at least 10-20 JBossAS's, each deployed with the same applications so that we can test the L&F of the results in the "worst" conditions (large number of similar resources with the same names).
Resource type far away from the resource name
Because we removed the type information from the names, it is not apparent from the name itself what you're looking at. Only the resource type (and ancestry) will give you a better idea just what a "jon231" or "0.0.0.0" is. An image makes for a thousand words: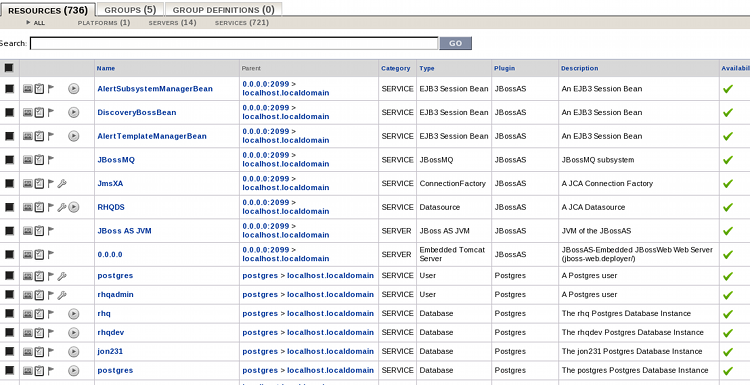 Naming is inconsistent
When we started the resource names simplification, we went on case by case basis through the resource types. That's why we kind of lost the "big picture" of how the resource names are going to look like when displayed together. Maybe it could be useful to come up with some conventions on naming the resources like "servers shall be called by their binding address and port".
No type information on parents
In some cases, it is not clear from the resource name, resource type and parent name what the resource really is. Consider the following screenshot:

The fact that jon231 is a postgres database can only be deduced from the fact that the table resource is defined by the postgres plugin, which is a little bit unintuitive.
Dashboard
Dashboard is the new landing page
Is this the intended behaviour or will we rather revert back to the original landing page?
Resource names not disambiguated in the portlets
The dashboard has been left out from the disambiguation effort. If the dashboard as it is is going to stay, we need to finish it.