---
---
org.jboss.dna.common.text
Class XmlNameEncoder

java.lang.Object
  org.jboss.dna.common.text.XmlNameEncoder

All Implemented Interfaces:
---
@Immutable
public class XmlNameEncoder

extends Object

implements TextDecoder, TextEncoder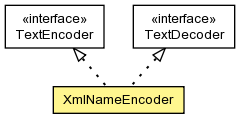 An encoder and decoder for XML element and attribute names.
Any UTF-16 unicode character that is not a valid XML name character according to the World Wide Web Consortium (W3C) Extensible Markup Language (XML) 1.0 (Fourth Edition) Recommendation is escaped as _xHHHH_, where HHHH stands for the four-digit hexadecimal UTF-16 unicode value for the character in the most significant bit first order. For example, the name "Customer_ID" is encoded as "Customer_x0020_ID".
Decoding transforms every _xHHHH_ encoding sequences back into the UTF-16 character. Note that decoding can be safely done on any XML name, even if the name does not contain any encoded sequences.
---
XmlNameEncoder

public XmlNameEncoder()
decode

public String decode(String encodedText)
Return the decoded version of an encoded string

Specified by:

decode in interface TextDecoder

Parameters:

encodedText - the encoded text

Returns:

the unecoded form of the text, or null if the supplied node name is also null

See Also:
---
encode

public String encode(String text)
Returns the encoded version of a string.

Specified by:

encode in interface TextEncoder

Parameters:

text - the text with characters that are to be encoded.

Returns:

the text with the characters encoded as required, or null if the supplied text is null

See Also:
---
---
Copyright © 2008-2010 JBoss, a division of Red Hat. All Rights Reserved.