---
---
org.jboss.dna.graph.query.model
Class SelectorName

java.lang.Object
  org.jboss.dna.graph.query.model.SelectorName

All Implemented Interfaces:
---
@Immutable
public class SelectorName

extends Object

implements Readable, Serializable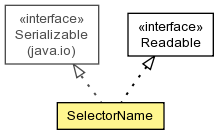 A representation of a qualified or expanded name.
See Also:
---
SelectorName

public SelectorName(String name)
getName

public String getName()
The raw name of the selector.

Returns:

the raw name; never null and never empty
---
getString

public String getString()
Get the string representation of this query object.

Returns:

the string representation; never null

See Also:
---
toString

public String toString()
See Also:
---
hashCode

public int hashCode()
See Also:
---
equals

public boolean equals(Object obj)
See Also:
---
---
Copyright © 2008-2010 JBoss, a division of Red Hat. All Rights Reserved.