---
---
Package org.jboss.dna.repository.service
The definition of common interfaces and classes for DNA services.

See:
Description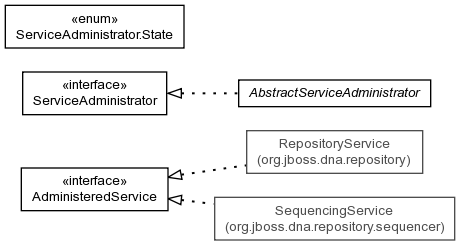 Interface Summary
AdministeredService
A simple interface for an administered service.
ServiceAdministrator
Contract defining an administrative interface for controlling the running state of a service.
Class Summary
AbstractServiceAdministrator
Simple abstract implementation of the service administrator interface that can be easily subclassed by services that require an administrative interface.
Package org.jboss.dna.repository.service Description
The definition of common interfaces and classes for DNA services.
---
---
Copyright © 2008-2010 JBoss, a division of Red Hat. All Rights Reserved.