---
---
org.jboss.dna.sequencer.classfile
Class DefaultClassFileRecorder

java.lang.Object
  org.jboss.dna.sequencer.classfile.DefaultClassFileRecorder

All Implemented Interfaces:
---
public class DefaultClassFileRecorder

extends Object

implements ClassFileRecorder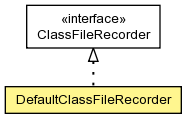 ---
DefaultClassFileRecorder

public DefaultClassFileRecorder()
recordClass

public void recordClass(StreamSequencerContext context,
                        SequencerOutput output,
                        ClassMetadata classMetadata)
Description copied from interface: ClassFileRecorder
Records a row using the provided SequencerOutput instance.

Specified by:

recordClass in interface ClassFileRecorder

Parameters:

context - the sequencer context
output - the StreamSequencer output
classMetadata - the metadata for the class file
---
---
Copyright © 2008-2010 JBoss, a division of Red Hat. All Rights Reserved.