---
---
org.jboss.dna.sequencer.java
Class AbstractJavaMetadata

java.lang.Object
  org.jboss.dna.sequencer.java.AbstractJavaMetadata

Direct Known Subclasses:
---
public abstract class AbstractJavaMetadata

extends Object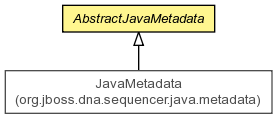 Abstract definition of a JavaMetadata. This class exposes some useful methods, that can be used to create meta data of a compilation unit. Methods can also separately be used.
---
AbstractJavaMetadata

public AbstractJavaMetadata()
---
---
Copyright © 2008-2010 JBoss, a division of Red Hat. All Rights Reserved.