---
---
org.jboss.dna.sequencer.java.metadata
Class WildcardTypeFieldMetadata

java.lang.Object
  org.jboss.dna.sequencer.java.metadata.FieldMetadata
      org.jboss.dna.sequencer.java.metadata.WildcardTypeFieldMetadata

---
public class WildcardTypeFieldMetadata

extends FieldMetadata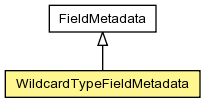 WildcardTypeFieldMetadata represents meta data for wild card type.
It is important to know that, it is nonsense if a wild card type appears anywhere other than as an argument of a ParameterizedTypeFieldMetadata node.
---
Methods inherited from class org.jboss.dna.sequencer.java.metadata.FieldMetadata
getModifiers, getType, getVariables, isArrayType, isParameterizedType, isPrimitiveType, isQualifiedType, isSimpleType, setModifiers, setType, setVariables
WildcardTypeFieldMetadata

public WildcardTypeFieldMetadata()
isWildcardType

public boolean isWildcardType()
Find out if a field is a wild card type or not.

Overrides:

isWildcardType in class FieldMetadata

Returns:

true if field is a wild card type.

See Also:
---
toString

public String toString()
See Also:
---
---
Copyright © 2008-2010 JBoss, a division of Red Hat. All Rights Reserved.