---
org.jboss.dna.common.jdbc.model.api
Interface Attribute
All Superinterfaces:
All Known Implementing Classes:
---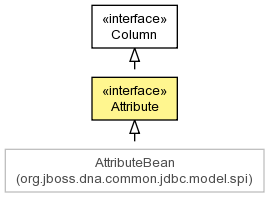 Provides User Defined Type (UDT) attribute specific metadata.
Since:

1.4 (JDBC 3.0)

Author:
---
Methods inherited from interface org.jboss.dna.common.jdbc.model.api.Column
addPrivilege, deletePrivilege, findPriviledgeByName, getCharOctetLength, getDefaultValue, getNullabilityType, getOrdinalPosition, getOwner, getPrecision, getPrivileges, getRadix, getSize, getSqlType, getTypeName, setCharOctetLength, setDefaultValue, setNullabilityType, setOrdinalPosition, setOwner, setPrecision, setRadix, setSize, setSqlType, setTypeName
getReference

Reference getReference()
Returns column reference if datatype is REF

Returns:

column reference if datatype is REF
---
setReference

void setReference(Reference reference)
Sets reference

Parameters:

reference - the reference to set
---
---
Copyright © 2008-Present JBoss a division of Red Hat. All Rights Reserved.