---
org.jboss.dna.common.jdbc.model.api
Interface Schema
All Superinterfaces:
All Known Implementing Classes:
---
public interface Schema

extends DatabaseNamedObject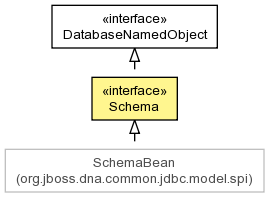 Provides database schema specific metadata.
Author:
---
getCatalog

Catalog getCatalog()
Gets database catalog

Returns:

database catalog
---
setCatalog

void setCatalog(Catalog catalog)
Sets database catalog

Parameters:

catalog - the database catalog
---
---
Copyright © 2008-Present JBoss a division of Red Hat. All Rights Reserved.