---
org.jboss.dna.connector.federation.merge.strategy
Class OneContributionMergeStrategy

java.lang.Object
  org.jboss.dna.connector.federation.merge.strategy.OneContributionMergeStrategy

All Implemented Interfaces:
---
@ThreadSafe
public class OneContributionMergeStrategy

extends Object

implements MergeStrategy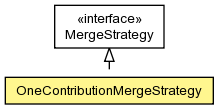 A merge strategy that is optimized for merging when there is a single contribution.
Author:

Randall Hauch
---
OneContributionMergeStrategy

public OneContributionMergeStrategy()
merge

public void merge(FederatedNode federatedNode,
                  List<Contribution> contributions,
                  ExecutionContext context)
Merge the contributions into a single

This method only uses the one and only one non-null Contribution in the contributions.

Specified by:

merge in interface MergeStrategy

Parameters:

federatedNode - the federated node into which the contributions are to be merged; never null
contributions - the contributions to the node; never null, never empty, and never containing nulls
context - the context in which this operation is to be performed; never null

See Also:
---
---
Copyright © 2008-Present JBoss a division of Red Hat. All Rights Reserved.