---
org.jboss.dna.repository
Class RepositoryService

java.lang.Object
  org.jboss.dna.repository.RepositoryService

All Implemented Interfaces:
---
@ThreadSafe
public class RepositoryService

extends Object

implements AdministeredService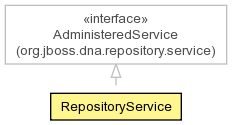 Author:

Randall Hauch
---
RepositoryService

public RepositoryService(RepositorySource configurationSource,
                         String configurationWorkspaceName,
                         Path pathToConfigurationRoot,
                         ExecutionContext context)
Create a service instance, reading the configuration describing new RepositorySource instances from the supplied configuration repository.

Parameters:

configurationSource - the RepositorySource that is the configuration repository
configurationWorkspaceName - the name of the workspace in the RepositorySource that is the configuration repository, or null if the default workspace of the source should be used (if there is one)
pathToConfigurationRoot - the path of the node in the configuration source repository that should be treated by this service as the root of the service's configuration; if null, then "/dna:system" is used
context - the execution context in which this service should run

Throws:

IllegalArgumentException - if the bootstrap source is null or the execution context is null
getAdministrator

public ServiceAdministrator getAdministrator()
Specified by:

getAdministrator in interface AdministeredService
---
getConfigurationSourceName

public String getConfigurationSourceName()
Returns:

configurationSourceName
---
getConfigurationWorkspaceName

public String getConfigurationWorkspaceName()
Returns:

configurationWorkspaceName
---
getRepositoryLibrary

public RepositoryLibrary getRepositoryLibrary()
Get the library of RepositorySource instances used by this service.

Returns:

the RepositorySource library; never null
---
getExecutionEnvironment

public ExecutionContext getExecutionEnvironment()
Returns:

env
---
getJndiName

public String getJndiName()
---
equals

public boolean equals(Object obj)
---
---
Copyright © 2008-Present JBoss a division of Red Hat. All Rights Reserved.