---
---
org.jboss.dna.connector.svn
Class SVNRepositoryRequestProcessor.AddDirectory

java.lang.Object
  org.jboss.dna.connector.svn.SVNRepositoryRequestProcessor.AddDirectory

All Implemented Interfaces:
Enclosing class:
---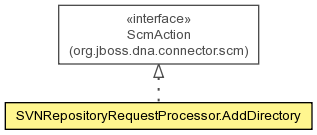 root should be the last, previously created, parent folder. Each directory in the path will be created.
---
SVNRepositoryRequestProcessor.AddDirectory

public SVNRepositoryRequestProcessor.AddDirectory(String root,
                                                  String path)
applyAction

public void applyAction(Object context)
                 throws org.tmatesoft.svn.core.SVNException
Specified by:

applyAction in interface ScmAction

Throws:

org.tmatesoft.svn.core.SVNException
---
---
Copyright © 2008-2009 JBoss, a division of Red Hat. All Rights Reserved.