---
---
org.jboss.dna.graph.cache
Class ImmutableCachePolicy

java.lang.Object
  org.jboss.dna.graph.cache.ImmutableCachePolicy

All Implemented Interfaces:
---
@Immutable
public class ImmutableCachePolicy

extends Object

implements CachePolicy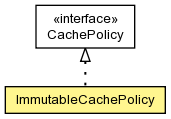 A basic CachePolicy implementation with a fixed time to live.
See Also:
---
ImmutableCachePolicy

public ImmutableCachePolicy(long timeToCache)
getTimeToLive

public long getTimeToLive()
Get the system time in milliseconds before which the node data remains valid.

Specified by:

getTimeToLive in interface CachePolicy

Returns:

the number of milliseconds that the cached data should be used before consulting the original source.

See Also:
---
getUnmodifiable

public CachePolicy getUnmodifiable()
---
---
Copyright © 2008-2009 JBoss, a division of Red Hat. All Rights Reserved.