---
---
org.jboss.dna.graph.property.basic
Class DelegatingValueFactories

java.lang.Object
  org.jboss.dna.graph.property.basic.AbstractValueFactories
      org.jboss.dna.graph.property.basic.DelegatingValueFactories

---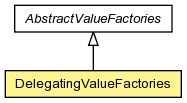 A ValueFactories implementation that delegates to another instance, and that is often useful for subclassing.
---
getBinaryFactory

public BinaryFactory getBinaryFactory()
---
getBooleanFactory

public ValueFactory<Boolean> getBooleanFactory()
---
getDateFactory

public DateTimeFactory getDateFactory()
---
getDecimalFactory

public ValueFactory<BigDecimal> getDecimalFactory()
---
getDoubleFactory

public ValueFactory<Double> getDoubleFactory()
---
getLongFactory

public ValueFactory<Long> getLongFactory()
---
getNameFactory

public NameFactory getNameFactory()
---
getObjectFactory

public ValueFactory<Object> getObjectFactory()
---
getPathFactory

public PathFactory getPathFactory()
---
getReferenceFactory

public ValueFactory<Reference> getReferenceFactory()
---
getStringFactory

public ValueFactory<String> getStringFactory()
---
getUriFactory

public ValueFactory<URI> getUriFactory()
---
getUuidFactory

public UuidFactory getUuidFactory()
---
---
Copyright © 2008-2009 JBoss, a division of Red Hat. All Rights Reserved.