---
---
org.modeshape.common.util
Class NamedThreadFactory

java.lang.Object
  org.modeshape.common.util.NamedThreadFactory

All Implemented Interfaces:
---
public class NamedThreadFactory

extends Object

implements ThreadFactory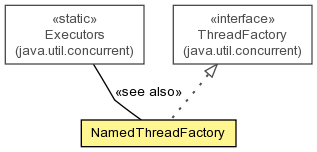 The thread factory that lets us adjust the names of the threads.
See Also:
---
NamedThreadFactory

public NamedThreadFactory(String poolName)
newThread

public Thread newThread(Runnable r)
Specified by:

newThread in interface ThreadFactory
---
---
Copyright © 2008-2010 JBoss, a division of Red Hat. All Rights Reserved.