---
---
org.modeshape.graph.query.optimize
Class RewriteAsRangeCriteria

java.lang.Object
  org.modeshape.graph.query.optimize.RewriteAsRangeCriteria

All Implemented Interfaces:
---
@Immutable
public class RewriteAsRangeCriteria

extends Object

implements OptimizerRule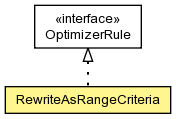 An optimizer rule that rewrites two AND-ed Constraints that constraint a dynamic operand to a range of values as a single Between constraint. This rule also collapses and removes any constraints that are unnecessary because other constraints are more restrictive or because they cancel out other constraints.
---
INSTANCE

public static final RewriteAsRangeCriteria INSTANCE
RewriteAsRangeCriteria

public RewriteAsRangeCriteria()
execute

public PlanNode execute(QueryContext context,
                        PlanNode plan,
                        LinkedList<OptimizerRule> ruleStack)
Optimize the supplied plan using the supplied context, hints, and yet-to-be-run rules.

Specified by:

execute in interface OptimizerRule

Parameters:

context - the context in which the query is being optimized; never null
plan - the plan to be optimized; never null
ruleStack - the stack of rules that will be run after this rule; never null

Returns:

the optimized plan; never null

See Also:
---
toString

public String toString()
See Also:
---
---
Copyright © 2008-2010 JBoss, a division of Red Hat. All Rights Reserved.