---
---
org.modeshape.graph.query.optimize
Class RuleBasedOptimizer

java.lang.Object
  org.modeshape.graph.query.optimize.RuleBasedOptimizer

All Implemented Interfaces:
---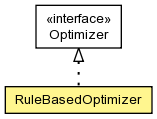 Optimizer implementation that optimizes a query using a stack of rules. Subclasses can override the populateRuleStack(LinkedList, PlanHints) method to define the stack of rules they'd like to use, including the use of custom rules.
---
RuleBasedOptimizer

public RuleBasedOptimizer()
optimize

public PlanNode optimize(QueryContext context,
                         PlanNode plan)
Optimize the supplied query plan and produce an executable processor plan.

Parameters:

context - the context in which the query is being optimized
plan - the query plan to be optimized

Returns:

the optimized query plan; never null

See Also:
---
---
Copyright © 2008-2010 JBoss, a division of Red Hat. All Rights Reserved.