---
---
org.modeshape.search.lucene
Class LuceneSearchWorkspace

java.lang.Object
  org.modeshape.search.lucene.LuceneSearchWorkspace

All Implemented Interfaces:
---
@Immutable
public class LuceneSearchWorkspace

extends Object

implements SearchEngineWorkspace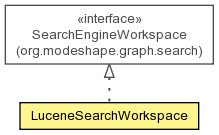 The SearchEngineWorkspace implementation for the LuceneSearchEngine.
---
getWorkspaceName

public String getWorkspaceName()
Get the name of the workspace.

Specified by:

getWorkspaceName in interface SearchEngineWorkspace

Returns:

the workspace name; never null

See Also:
---
destroy

public void destroy(ExecutionContext context)
Destroy the indexes for the workspace with the supplied name.

Specified by:

destroy in interface SearchEngineWorkspace

Parameters:

context - the execution context in which the destruction should be performed; may not be null

See Also:
---
getRules

public IndexRules getRules()
Returns:

rules
---
---
Copyright © 2008-2010 JBoss, a division of Red Hat. All Rights Reserved.