---
---
org.modeshape.jboss.managed
Class JNDIManagedRepositories

java.lang.Object
  org.modeshape.jboss.managed.JNDIManagedRepositories

All Implemented Interfaces:
---
public final class JNDIManagedRepositories

extends Object

implements Repositories, Serializable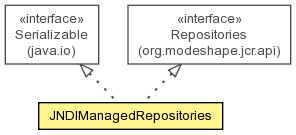 See Also:
---
Methods inherited from class java.lang.Object
clone, equals, finalize, getClass, hashCode, notify, notifyAll, toString, wait, wait, wait
JNDIManagedRepositories

public JNDIManagedRepositories()
setModeshapeUrl

public void setModeshapeUrl(String url)
                     throws Exception
Throws:
---
start

public void start()
           throws NamingException
Throws:
---
stop

public void stop()
---
setManagedEngine

public void setManagedEngine(ManagedEngine engine)
---
getRepository

public Repository getRepository(String repositoryName)
                         throws RepositoryException
Return the JCR Repository with the supplied name.

Specified by:

getRepository in interface Repositories

Parameters:

repositoryName - the name of the repository to return; may not be null

Returns:

the repository with the given name; never null

Throws:

RepositoryException - if no repository exists with the given name or there is an error communicating with the repository

See Also:
---
getRepositoryNames

public Set<String> getRepositoryNames()
Get the names of the available repositories.

Specified by:

getRepositoryNames in interface Repositories

Returns:

the immutable set of repository names provided by this server; never null

See Also:
---
---
Copyright © 2008-2010 JBoss, a division of Red Hat. All Rights Reserved.