---
---
org.modeshape.search.lucene
Class AbstractLuceneSearchEngine<WorkspaceType extends SearchEngineWorkspace,ProcessorType extends SearchEngineProcessor>

java.lang.Object
  org.modeshape.graph.search.AbstractSearchEngine<WorkspaceType,ProcessorType>
      org.modeshape.search.lucene.AbstractLuceneSearchEngine<WorkspaceType,ProcessorType>

Type Parameters:

WorkspaceType - the type of workspace
ProcessorType - type type of processor
All Implemented Interfaces:
Direct Known Subclasses:
---
public abstract class AbstractLuceneSearchEngine<WorkspaceType extends SearchEngineWorkspace,ProcessorType extends SearchEngineProcessor>

extends AbstractSearchEngine<WorkspaceType,ProcessorType>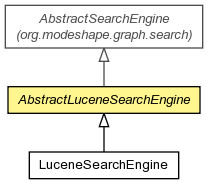 An abstract SearchEngine implementation that is set up to use the Lucene library. This provides an abstract Processor base class that has some commonly-needed methods, simplifying the implementation. However, this class does not presume any number or layout of the Lucene indexes, and requires a subclass to do that.
---
Methods inherited from class java.lang.Object
clone, equals, finalize, getClass, hashCode, notify, notifyAll, toString, wait, wait, wait
AbstractLuceneSearchEngine

protected AbstractLuceneSearchEngine(String sourceName,
                                     RepositoryConnectionFactory connectionFactory,
                                     boolean verifyWorkspaceInSource)
Create a SearchEngine instance that uses Lucene.

Parameters:

sourceName - the name of the source that this engine will search over
connectionFactory - the factory for making connections to the source
verifyWorkspaceInSource - true if the workspaces are to be verified using the source, or false if this engine is used in a way such that all workspaces are known to exist

Throws:

IllegalArgumentException - if any of the parameters are null
---
---
Copyright © 2008-2010 JBoss, a division of Red Hat. All Rights Reserved.