---
---
org.modeshape.connector.infinispan
Class InfinispanRepository

java.lang.Object
  org.modeshape.graph.connector.base.Repository<InfinispanNode,InfinispanWorkspace>
      org.modeshape.connector.infinispan.InfinispanRepository

---
@ThreadSafe
public class InfinispanRepository

extends Repository<InfinispanNode,InfinispanWorkspace>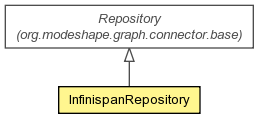 The representation of an in-memory repository and its content.
---
Methods inherited from class java.lang.Object
clone, equals, finalize, getClass, hashCode, notify, notifyAll, toString, wait, wait, wait
InfinispanRepository

public InfinispanRepository(BaseInfinispanSource source,
                            org.infinispan.manager.CacheContainer cacheContainer)
getWorkspaceNames

public Set<String> getWorkspaceNames()
Get the names of the available workspaces that have been loaded.

Overrides:

Returns:

the immutable names of the workspaces.

See Also:
---
getCacheContainer

protected org.infinispan.manager.CacheContainer getCacheContainer()
Get the cache manager used by this repository.

Returns:

the cacheManager; never null
---
shutdown

public void shutdown()
This method shuts down the workspace and makes it no longer usable. This method should also only be called once.
---
startTransaction

public InfinispanTransaction startTransaction(ExecutionContext context,
                                              boolean readonly)
Begin a transaction, hinting whether the transaction will be used only to read the content. If this is called, then the transaction must be either committed or rolled back.

Specified by:

Parameters:

context - the context in which the transaction is to be performed; may not be null
readonly - true if the transaction will not modify any content, or false if changes are to be made

Returns:

the transaction; never null

See Also:
---
---
Copyright © 2008-2010 JBoss, a division of Red Hat. All Rights Reserved.