---
---
org.modeshape.sequencer.xml
Class InheritingXmlSequencer

java.lang.Object
  org.modeshape.sequencer.xml.XmlSequencer
      org.modeshape.sequencer.xml.InheritingXmlSequencer

All Implemented Interfaces:
---
public class InheritingXmlSequencer

extends XmlSequencer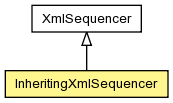 An XML sequencer that is a specialization of XmlSequencer by inheriting unqualified attribute namespaces from the element rather than from the default namespace.
---
Methods inherited from class java.lang.Object
clone, equals, finalize, getClass, hashCode, notify, notifyAll, toString, wait, wait, wait
InheritingXmlSequencer

public InheritingXmlSequencer()
---
---
Copyright © 2008-2010 JBoss, a division of Red Hat. All Rights Reserved.