---
---
Package org.modeshape.sequencer.zip
The classes that make up the ZIP file sequencer.

See:
Description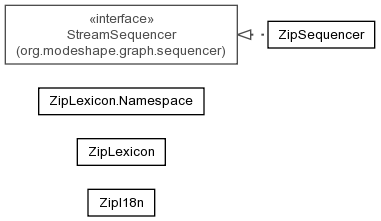 Class Summary
ZipI18n
The internationalized string constants for the org.modeshape.sequencer.zip packages.
ZipLexicon
A lexicon of names used within the zip sequencer.
ZipLexicon.Namespace
ZipSequencer
A sequencer that processes and extract the files and folders from ZIP archive files.
Package org.modeshape.sequencer.zip Description
The classes that make up the ZIP file sequencer.
---
---
Copyright © 2008-2010 JBoss, a division of Red Hat. All Rights Reserved.