---
---
org.modeshape.graph
Interface Graph.AddValue<Next>
Type Parameters:

Next - The interface that is to be returned when the request is completed
All Superinterfaces:

Graph.ToName<Graph.On<Next>>
All Known Implementing Classes:
Enclosing class:
---
public static interface Graph.AddValue<Next>

extends Graph.ToName<Graph.On<Next>>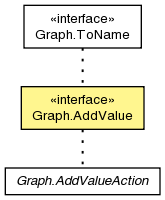 The interface for defining the node on which an Graph.addValue(Object) operation applies and what additional values (if any) should be added.
---
andValue

Graph.AddValue<Next> andValue(Object value)
Specifies an additional value to be added

Parameters:

value - the value to be added

Returns:

an object that allows additional values to be specified for removal or for their location to be specified
---
---
Copyright © 2008-2011 JBoss, a division of Red Hat. All Rights Reserved.