---
---
org.modeshape.graph.observe
Class NetChangeObserver.NetChanges

java.lang.Object
  org.modeshape.graph.observe.Changes
      org.modeshape.graph.observe.NetChangeObserver.NetChanges

All Implemented Interfaces:
Enclosing class:
---
@Immutable
public static final class NetChangeObserver.NetChanges

extends Changes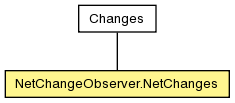 A set of net changes that were made atomically. Each change is in the form of a frozen ChangeRequest, and the net change is in the form.
See Also:
---
NetChangeObserver.NetChanges

public NetChangeObserver.NetChanges(Changes changes,
                                    List<NetChangeObserver.NetChange> netChanges)
getNetChanges

public List<NetChangeObserver.NetChange> getNetChanges()
Get the list of net changes.

Returns:

the immutable list of net changes; never null and never empty
---
toString

public String toString()
See Also:
---
---
Copyright © 2008-2011 JBoss, a division of Red Hat. All Rights Reserved.