---
---
org.modeshape.graph.query.model
Class FullTextSearch.NegationTerm

java.lang.Object
  org.modeshape.graph.query.model.FullTextSearch.NegationTerm

All Implemented Interfaces:
Enclosing class:
---
public static class FullTextSearch.NegationTerm

extends Object

implements FullTextSearch.Term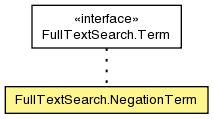 A FullTextSearch.Term that represents a search term that requires another term to not appear.
---
FullTextSearch.NegationTerm

public FullTextSearch.NegationTerm(FullTextSearch.Term negatedTerm)
getNegatedTerm

public FullTextSearch.Term getNegatedTerm()
Get the term that is negated.

Returns:

the negated term; never null
---
hashCode

public int hashCode()
See Also:
---
equals

public boolean equals(Object obj)
See Also:
---
toString

public String toString()
See Also:
---
---
Copyright © 2008-2011 JBoss, a division of Red Hat. All Rights Reserved.