---
---
org.modeshape.graph.query.validate
Class ImmutableSchemata

java.lang.Object
  org.modeshape.graph.query.validate.ImmutableSchemata

All Implemented Interfaces:
---
@Immutable
public class ImmutableSchemata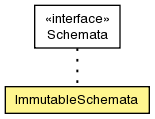 An immutable Schemata implementation.
---
ImmutableSchemata

protected ImmutableSchemata(Map<SelectorName,Schemata.Table> tables)
createBuilder

public static ImmutableSchemata.Builder createBuilder(TypeSystem typeSystem)
Obtain a new instance for building Schemata objects.

Parameters:

typeSystem - the type system that this schemata should use

Returns:

the new builder; never null

Throws:

IllegalArgumentException - if the context is null
---
getTable

public Schemata.Table getTable(SelectorName name)
Get the information for the table or view with the supplied name within this schema.

The resulting definition is immutable.

Parameters:

name - the table or view name; may not be null

Returns:

the table or view information, or null if there is no such table

See Also:
---
with

public ImmutableSchemata with(Schemata.Table table)
---
toString

public String toString()
See Also:
---
---
Copyright © 2008-2011 JBoss, a division of Red Hat. All Rights Reserved.