---
---
org.modeshape.graph.request
Class MultipleRequestFailuresException

java.lang.Object
  java.lang.Throwable
      java.lang.Exception
          java.lang.RuntimeException
              org.modeshape.graph.request.RequestException
                  org.modeshape.graph.request.MultipleRequestFailuresException

All Implemented Interfaces:
---
public class MultipleRequestFailuresException

extends RequestException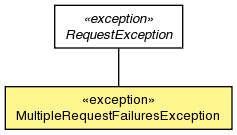 A RequestException that wraps multiple failed Request objects.
See Also:
---
MultipleRequestFailuresException

public MultipleRequestFailuresException(List<Request> failedRequests,
                                        int totalNumberOfRequests)
Parameters:

failedRequests - the failed requests, where each request contains its own exception
totalNumberOfRequests - the total number of requests that were submitted
getTotalNumberOfRequests

public int getTotalNumberOfRequests()
Returns:

totalNumberOfRequests
---
getFailedRequests

public List<Request> getFailedRequests()
Returns:

failedRequests
---
getMessage

public String getMessage()
Overrides:

getMessage in class Throwable

See Also:
---
toString

public String toString()
See Also:
---
---
Copyright © 2008-2011 JBoss, a division of Red Hat. All Rights Reserved.