---
---
org.modeshape.graph.session
Class GraphSession.LoadAllChildrenVisitor

java.lang.Object
  org.modeshape.graph.session.GraphSession.NodeVisitor<Payload,PropertyPayload>
      org.modeshape.graph.session.GraphSession.LoadNodesVisitor
          org.modeshape.graph.session.GraphSession.LoadAllChildrenVisitor

Enclosing class:
---
@NotThreadSafe
protected class GraphSession.LoadAllChildrenVisitor

extends GraphSession.LoadNodesVisitor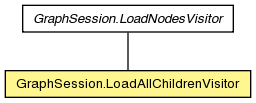 A visitor that ensures that all children of a node are loaded, and provides a hook to post-process the parent.
---
Methods inherited from class java.lang.Object
clone, equals, finalize, getClass, hashCode, notify, notifyAll, toString, wait, wait, wait
GraphSession.LoadAllChildrenVisitor

protected GraphSession.LoadAllChildrenVisitor()
visit

public boolean visit(GraphSession.Node<Payload,PropertyPayload> node)
Visit the supplied node, returning whether the children should be visited.

Specified by:

visit in class GraphSession.NodeVisitor<Payload,PropertyPayload>

Parameters:

node - the node to be visited; never null

Returns:

true if the node's children should be visited, or false if no children should be visited

See Also:
---
finish

public void finish()
Method that should be called after all visiting has been done successfully (with no exceptions), including when no nodes were visited.

Overrides:

finish in class GraphSession.LoadNodesVisitor
---
finishParentAfterLoading

protected void finishParentAfterLoading(GraphSession.Node<Payload,PropertyPayload> parentNode)
Method that is called at the end of the finish() stage with each parent node whose children were all loaded.

Parameters:

parentNode - the parent of the just-loaded children; never null
---
---
Copyright © 2008-2011 JBoss, a division of Red Hat. All Rights Reserved.