---
---
org.modeshape.jcr.nodetype
Interface PropertyDefinitionTemplate
All Superinterfaces:
---
@NotThreadSafe
public interface PropertyDefinitionTemplate

extends PropertyDefinitionTemplate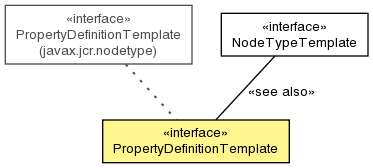 A template that can be used to create new property definitions, patterned after the approach in the proposed JSR-283. This interface extends the standard PropertyDefinition interface and adds setter methods for the various attributes.
---
Methods inherited from interface javax.jcr.nodetype.PropertyDefinitionTemplate
setAutoCreated, setAvailableQueryOperators, setDefaultValues, setFullTextSearchable, setMandatory, setMultiple, setName, setOnParentVersion, setProtected, setQueryOrderable, setRequiredType, setValueConstraints
setDefaultValues

@Deprecated
void setDefaultValues(String[] defaultValues)
Deprecated. As of ModeShape 2.0, use PropertyDefinitionTemplate.setDefaultValues(javax.jcr.Value[]) instead

Set the default values for the property, using their string representation. See PropertyDefinition.getDefaultValues() for more details.

Parameters:

defaultValues - the string representation of the default values, or null or an empty array if there are no default values
---
---
Copyright © 2008-2011 JBoss, a division of Red Hat. All Rights Reserved.