---
---
org.modeshape.repository
Class SimpleRepositoryContext

java.lang.Object
  org.modeshape.repository.SimpleRepositoryContext

All Implemented Interfaces:
---
@Immutable
public class SimpleRepositoryContext

extends Object

implements RepositoryContext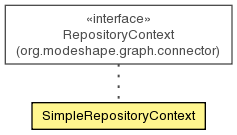 A simple, immutable RepositoryContext implementation that uses the references supplied as parameters to the constructor.
---
Methods inherited from class java.lang.Object
clone, equals, finalize, getClass, hashCode, notify, notifyAll, toString, wait, wait, wait
SimpleRepositoryContext

public SimpleRepositoryContext(ExecutionContext context,
                               Observer observer,
                               RepositoryConnectionFactory connectionFactory)
getConfiguration

public Subgraph getConfiguration(int depth)
Get a snapshot of the current configuration for the RepositorySource. The root of the subgraph will be the node in the configuration that represents the RepositorySource.

Specified by:

getConfiguration in interface RepositoryContext

Parameters:

depth - the max depth of the configuration subgraph

Returns:

the configuration snapshot as a subgraph, or null if there is no configuration

See Also:
---
getExecutionContext

public ExecutionContext getExecutionContext()
Get the execution context, which can be used to create other contexts with specific JAAS security contexts.

Specified by:

getExecutionContext in interface RepositoryContext

Returns:

the execution context; never null

See Also:
---
getObserver

public Observer getObserver()
Get the observer that the connector may use to publish changes.

Specified by:

getObserver in interface RepositoryContext

Returns:

the observer, or null if the are no listeners and publishing is not required/requested

See Also:
---
getRepositoryConnectionFactory

public RepositoryConnectionFactory getRepositoryConnectionFactory()
Get the factory for connections to other sources.

Specified by:

getRepositoryConnectionFactory in interface RepositoryContext

Returns:

the connection factory

See Also:
---
---
Copyright © 2008-2011 JBoss, a division of Red Hat. All Rights Reserved.