---
---
org.jboss.netty.channel.group
Interface ChannelGroupFutureListener
All Superinterfaces:
---
public interface ChannelGroupFutureListener

extends EventListener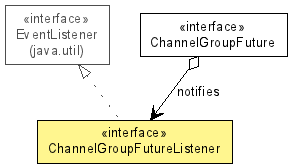 Listens to the result of a ChannelGroupFuture. The result of the asynchronous ChannelGroup I/O operations is notified once this listener is added by calling ChannelGroupFuture.addListener(ChannelGroupFutureListener) and all I/O operations are complete.
Version:

$Rev: 2080 $, $Date: 2010-01-26 18:04:19 +0900 (Tue, 26 Jan 2010) $

Author:
---
operationComplete

void operationComplete(ChannelGroupFuture future)
                       throws Exception
Invoked when all I/O operations associated with the ChannelGroupFuture have been completed.

Parameters:

future - The source ChannelGroupFuture which called this callback.

Throws:
---
---
Copyright © 2008-2011 JBoss, a division of Red Hat, Inc.. All Rights Reserved.