---
---
org.jboss.netty.handler.codec.serialization
Class CompatibleObjectEncoder

java.lang.Object
  org.jboss.netty.handler.codec.oneone.OneToOneEncoder
      org.jboss.netty.handler.codec.serialization.CompatibleObjectEncoder

All Implemented Interfaces:
---
public class CompatibleObjectEncoder

extends OneToOneEncoder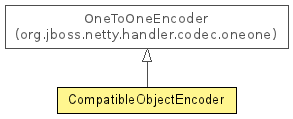 An encoder which serializes a Java object into a ChannelBuffer (interoperability version).
This encoder is interoperable with the standard Java object streams such as ObjectInputStream and ObjectOutputStream.
Version:

$Rev:231 $, $Date:2008-06-12 16:44:50 +0900 (목, 12 6월 2008) $

Author:
---
Methods inherited from class java.lang.Object
clone, equals, finalize, getClass, hashCode, notify, notifyAll, toString, wait, wait, wait
CompatibleObjectEncoder

public CompatibleObjectEncoder()
Creates a new instance with the reset interval of 16.
---
CompatibleObjectEncoder

public CompatibleObjectEncoder(int resetInterval)
Creates a new instance.

Parameters:

resetInterval - the number of objects between ObjectOutputStream.reset(). 0 will disable resetting the stream, but the remote peer will be at the risk of getting OutOfMemoryError in the long term.
newObjectOutputStream

protected ObjectOutputStream newObjectOutputStream(OutputStream out)
                                            throws Exception
Creates a new ObjectOutputStream which wraps the specified OutputStream. Override this method to use a subclass of the ObjectOutputStream.

Throws:
---
encode

protected Object encode(ChannelHandlerContext context,
                        Channel channel,
                        Object msg)
                 throws Exception
Description copied from class: OneToOneEncoder
Transforms the specified message into another message and return the transformed message. Note that you can not return null, unlike you can in OneToOneDecoder.decode(ChannelHandlerContext, Channel, Object); you must return something, at least ChannelBuffers.EMPTY_BUFFER.

Specified by:

encode in class OneToOneEncoder

Throws:
---
---
Copyright © 2008-2011 JBoss, a division of Red Hat, Inc.. All Rights Reserved.