---
---
org.jboss.dna.connector.filesystem
Class FileSystemRepository

java.lang.Object
  org.jboss.dna.graph.connector.path.PathRepository
      org.jboss.dna.graph.connector.path.WritablePathRepository
          org.jboss.dna.connector.filesystem.FileSystemRepository

---
public class FileSystemRepository

extends WritablePathRepository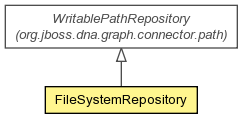 Implementation of WritablePathRepository that provides access to an underlying file system. This repository only natively supports nodes of primary types nt:folder, nt:file, and dna:resource, although the CustomPropertiesFactory allows for the addition of mixin types to any and all primary types.
---
FileSystemRepository

public FileSystemRepository(FileSystemSource source)
getCache

public WorkspaceCache getCache(String workspaceName)
---
---
Copyright © 2008-2010 JBoss, a division of Red Hat. All Rights Reserved.